Overcome the complexity of mobile app development
From retail customers to enterprise employees, individuals today expect a responsive and consistent experience across all of their devices. Organizations that meet those expectations can improve user satisfaction while supporting digital transformation initiatives that enhance the efficiency of business processes.
When it comes to mobile apps, delivering a responsive and consistent experience can be challenging. Performance and availability, in addition to support for multiple platforms, is required by business-critical apps. Providing offline capabilities is also key so users can continue to work when connectivity is spotty or unavailable. Finally, developers must ensure enterprise-level security to combat rising threats. And they need to meet all these requirements while controlling costs and complexity.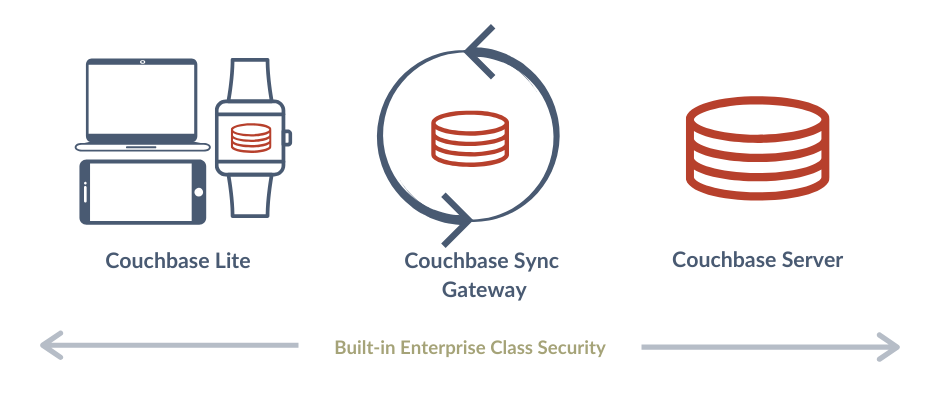 With Couchbase Mobile, you can deliver an always-on experience with guaranteed data availability, even when there is intermittent network connectivity. Built-in end-to-end data encryption and fine-grained access control help safeguard data while a consistent programming model for building web and mobile apps simplifies development.
Mobile app development can feel needlessly complex.
Whether you're building an app for retail customers or something to suit the needs of your enterprise employees, you need an app that delivers a reliable and consistent experience no matter what device they are using.
In 2018, 52.2 percent of all online traffic was conducted on a mobile device, which means you need an app that can keep up. Your customers and employees expect it.
A consistent, fully functional mobile app can improve user satisfaction and support digital transformation initiatives that will boost the efficiency of your business processes. You need your app to do the following things:
Perform business-critical tasks reliably
Provide offline capabilities when online access is limited or spotty
Offer enterprise-wide security to fend off cyber attacks and data breaches
Remain cost efficient and streamlined for easy use
Offer a consistent programming model for building web and mobile apps to simplify development
Key Couchbase Mobile Features
Peer-to-peer synchronization so that you can connect devices in multiple environments even with limited network connectivity in places like retail stores, airplanes and power plants. You need an app that will allow your users to exchange data regardless of network availability.
Disaster recovery and high-availability on edge devices so you can recover data from a damaged device using an on-device replica.
On-device encryption so that you have end-to-end security. Data is encrypted at the local databases to better protect data at rest (DAR).
On-premises and cloud deployment to manage applications on any public cloud to achieve greater agility. Deploy the same stack on premises to allow your developers and QA teams to be more productive and cost effective in their software development lifecycle.
Build a mobile architecture that works no matter what with guaranteed data availability even when network connectivity is limited. End-to-end data encryption and fine-grained access control also ensure data is safe. Why does this matter? Eight-three percent of phishing attacks in 2019 took place outside the email inbox. Instead, many of them happened in mobile apps.
What Is Couchbase Mobile?
Couchbase Mobile is a collection of software. It consists of an embedded NoSQL database on the device and a middleware service that securely synchronizes this locally stored data with the Couchbase server and other devices. These two pieces of software are called:
Couchbase Lite.
Couchbase Sync Gateway.
When used in tandem, these two software elements are a force to be reckoned with.
Couchbase is the only database that combines the best of NoSQL with the power and familiarity of SQL, all in a single, elegant platform, spanning from any cloud to the edge. Couchbase Lite is an embedded NoSQL database that offers a very small footprint and runs in process while the application is running and while it is in the background. It channels the data, manages and resolves conflicts, and gives developers and end users the best possible experience.
Couchbase Mobile uses what is already "baked in" to Android and iOS devices for optimum performance, taking the pain out of data replication and synchronization needed for a manual or hands-on approach to creating a reliable app.